Welcome to B & B Gymnastics Training Center
Established in 1989, we have been serving our community for over 24 years.
B & B Gymnastics Training Center, Inc.

5423 Intrastate Drive, Fairborn, Ohio 45324

(east of I-675, exit # 24 (Enon/Fairborn exit) on State Route 444

Phone (937) 879-7563

e-mail: bbgym@hotmail.com

Office Hours: Mon-Fri 4:30 - 8:30PM & Sat 9:30AM - 2:30PM

our CLASS SCHEDULE runs through

Thursday May 28, 2015

and our SUMMER class schedule is

offered June - August 2015
The 2015 SUMMER Class Schedule is NOW available. Please see link for Program and Schedule.
Go to B&B Program & Schedule link for more information (on left-hand side)
Programs offered at B & B
1) Recreational gymnastics programs for girls and boys ages 20 months to 18 years.
2) Tumbling classes for ages 8 years and up.
3) Competitive Gymnastics Programs for girls, ages 6 years and up, USAG Junior Olympic Program (Xcel program) and the USAIGC, College Bound Program.
4) Birthday Parties for children 5 years and up.
5)
Saturday
Open Gym for students (6yr & up) currently attending classes.
6) Private classes for single individuals & groups.
7) Gym rental also available for groups.
Note, please call or stop by the office during office hours to check on class availability prior to signing up for classes. Office hours are Monday through Friday 4:30pm to 8:30pm and Saturday from 9:30am to 2:30pm. If no one is available (with a customer/out of the office), please leave a message and someone will get back with you as soon as possible.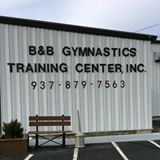 Follow us on Facebook . . . . hit the LINK at the bottom of the page!
WINTER STORM WEATHER
---------------------------------------
We will NOT close as often as public schools do.
Please call the office ONE hour before class time and check for a closure message on our answering machine (937) 879 - 7563. We will also post a message on this website.
OR *LIKE* our facebook page. We will also post a CLOSURE message on our facebook page.
OR check at www.WDTN.com and click on "weather" and "school closings" - type in "B and B Gymnastics".
Looking ahead . . .
Please remember to check our bulletin board/read our newsletters (when available) for more information.
1. Gym closures are scheduled for the months of MAY - JUNE - JULY - AUGUST.
CLOSED: Monday, May 25th in observance of Memorial Day
CLOSED: Friday, May 29th through Sunday, May 31 due to our annual Mini-Meet (held on Sat + Sun)
CLOSED: Monday, June 29 through Sunday, July 5th due to First Summer Break
CLOSED: Saturday, August 22 through Sunday, August 30 due to Second Summer Break
2. Our summer classes will start on Monday, June 1, 2015. Summer registraton will start April 27 and run through May 2.
(We will required a 1st, 2nd and 3rd choice for class times to be able to place your child(ren) in our classes.)
3. Next Level Testing will be Saturday, May 2 at 1 pm. (Note: If you are not continuing through the summer, please do not test)
.
B & B Gymnastics Facebook Link above!
To go to the USA Gymnastics web site use the link below.